We may earn money or products from the companies mentioned in this post.
Commonly used to add flavoring to Mediterranean food, basil also has a number of therapeutic properties. It can soothe feelings of anxiety and ease digestion. Basil oil can be used to refresh the senses, invigorate the mind, and soothe the digestive and respiratory tracts.
The oil of basil is produced by steam distilling, resulting in a suite, spicy smell evocative of sunny Mediterranean vacations. Basil's uplifting and strengthening effects make it valuable oil for treating anxiety and depression. Its restorative properties can also help treat stress and tension.
Powerful Decongestants
The anti-septic and anti-spasmodic in effect of basil make it a good abdominal massage oil for clearing intestinal infections. It is also helpful for treating painful digestive disorders. Basil's decongestant action in a steam inhalation is a very effective remedy for cough and congestion. It also has a beneficial action on the respiratory tract and can restore sense of smell and taste.
Active ingredients of basil oil
Basil's stimulating effect on the nervous system is due to high concentrations of alcohols. Monoterpene alcohols: these alcohols make up to 60% of basil oil. The principal compound active in the oil is linalol, which gives it a distinctive floral, spicy and slightly citrus aroma. Monoterpene alcohols are considered to be uplifting, warming and balancing.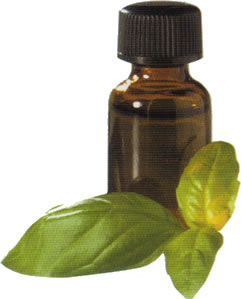 They also contain antibacterial, antiviral actions and stimulate the body's defensive system to fight infections. Phenols and phenolic esters: basil contains menthol chavicol and eugenol. These help to stimulate the nervous system and strengthen the immune system.
Other ingredients: basil also contains traces of ketones, such as camphol and cineole, and terpenes such as pinene and ocimene.
Basil oil uses
Basil oil is a natural treatment for respiratory and digestive infections and can be used to create a refreshing body rub and a pick me up for work.
Basil for folklore
Basil is a sacred herb in many belief systems and has associations with different deities. According to Christian legend, basil grew on Christ's tomb after his resurrection. Thoughts, some Greek Orthodox churches use basil to prepare holy water. This native herb is held in great reverence throughout India, where it is sacred to Krishna and Vishnu. It is cherished in Hindu homes, where it is believed to protect the family.
Energizing basil
Wake up the mind and body with stimulating, uplifting basil oil. For an invigorating aromatic start to the day, at 1 to 2 drops each of basil and bergamot oil to your shower gel in the morning. Wake up in the morning with an energizing basil body rub.
Bracing body rub
For an energizing and invigorating body rub, try adding five drops each of bergamot and geranium oil and two drops of basil oil to 2 tablespoons of sweet almond oil.
Alertness boost
If you hit an afternoon energy slump in the office, give yourself a boost with two drops of basil oil and six drops of grapefruit oil in a room vaporizer.
Digestive and Respiratory Infections
Use basil's potent purifying cleansing properties to combat infections. For upset stomachs, place a warm compress over the abdomen using a cloth soaked in hot water containing 2 to 3 drops each of clove and basil oil. Both contain eugenol, which is effective in treating diarrhea.
Relieve congestion and ease breathing within aromatic steam inhalation
Add 5 drops of lemon oil, 3 drops of lavender, and 2 drops of basil to a bowl of hot water. Cover your head with a towel and inhaled deeply until the condition clears.
Calm a lingering cough or chest infection with a dry inhalation by adding 2 drops of basil, 4 drops of Rosemary, and 3 drops of lemon oil to a handkerchief. To relieve a tight chest, add lemon, lavender, and basil to hot water.
Uplifting Basil Oil
Treat the misery and lethargy of depression with balancing basil.
Relaxing Basil Bath
After a hectic day, have a relaxing basil bath. Add 5 drops of lavender, 2 drops of basil, and 3 drops of geranium.
Uplifting massage
Blend 2 drops of basil oil and 10 drops each of black pepper and bergamot oil in 2 tablespoons of grape seed oil for a massage to treat apathy and depression.
Revive the spirits
For a fragrance that will relieve nervous tension and lift the spirit, add 10 drops each of ginger and black pepper oil and 2 drops of basil oil to a room vaporizer or diffuser.
Spring cleaning
If you're doing a spring cleaning of your home, cleanse the air with a room spray of basil oil. Simply add a few drops to a water spray and squirt into the center of the room a couple of times.
Diffusers are a great way to use Essential Oils:
Get Your Complete Line of Essential Oils:

---